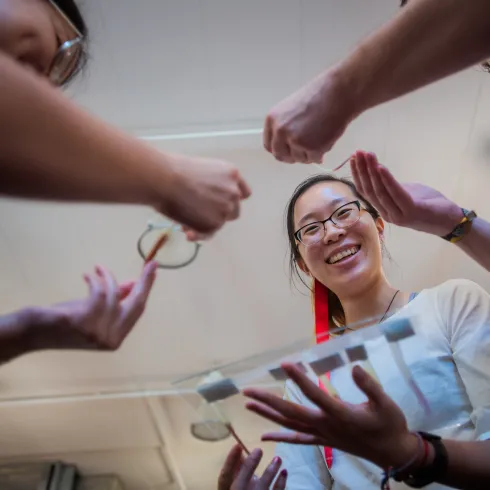 IPIA & Ownership
The Inventions and Proprietary Information Agreement (IPIA) is a contract between an individual and MIT that transfers ownership of certain intellectual property. With limited exception, every employee (including temporary employees), faculty, graduate student, postdoctoral associate, fellow, visitor, research affiliate, and staff affiliate (where appropriate) must sign the IPIA.
By signing the IPIA and transferring ownership of intellectual property to MIT, you are putting that intellectual property into MIT's hands to preserve it for further research and development while fulfilling the Institute's mission and allowing MIT to meet its obligations to its research sponsors.  
The Inventions and Proprietary Information Agreement (IPIA) form transfers ownership of intellectual property to MIT as determined by MIT Policy and must be signed by all persons participating in research and other opportunities at MIT.
Ownership of Intellectual Property
MIT owns all of the following forms of IP developed using MIT funds, in the performance of an MIT collaboration, research, or sponsored agreement; or that result of research or educational opportunities made available by or at MIT:
Patentable inventions
Copyrightable works (including software and mask works)
Trademarks
Materials created, collected, developed, derived or obtained in the course of MIT research (for example, datasets, and biological specimens)
MIT also owns IP resulting from an "MIT Opportunity" – research or educational opportunities made available by or at MIT to individuals who are not employees, faculty, graduate students, postdoctoral associates, or fellows.
Additional information is available in the full MIT Intellectual Property Policy.
MIT generally does not claim ownership of copyrights in creative works such as scholarly books or textbooks, manuscripts, books, scholarly works and publications, or non-literary creative works (for example, artwork or musical scores). Unless MIT has specifically commissioned a particular work to be written or created.
Other Circumstances
There are certain circumstances where MIT does not assert ownership of intellectual property, including inventions developed using MIT funds by students participating solely in conjunction with specific programs established to support education in innovation or entrepreneurship might be owned by individual inventors or authors, with some exceptions. These programs may fall under the "Exempt Programs" designation. 
MIT Inventions and Proprietary Information Agreement
This form is required for MIT's compliance with federal law and with our third-party research contracts. The TLO is responsible for retaining current and accurate IPIAs on file for all faculty, graduate students, postdoctoral associates, fellows, visitors, research affiliates, staff affiliates (where appropriate), contingent workers, and contractors at Lincoln Lab, and—in certain circumstances only—undergraduates.
Obligations for IPIA Signatories
In order to comply with federal regulations, all required signatories must sign the IPIA and should be aware of certain obligations codified in the contract.
For example, federal regulations require IPIA signatories to report inventions conceived during federal research projects to the TLO and to sign any paperwork necessary to patent that invention.
The IPIA obligates Required IPIA Signatories to:
Disclose certain inventions, software, mask works, and tangible property to the TLO
Assign ownership of such intellectual property to MIT
Execute all papers necessary to enable MIT to maintain legal protection for such intellectual property;
Prepare and maintain supporting information related or relevant to such intellectual property
Make available all supporting information that might be required for MIT to protect such intellectual property
Deliver promptly to MIT all materials and supporting information
Not disclose a third party's confidential information to MIT (for example, the trade secret of a previous employer)
Not disclose MIT's confidential information to a third party
Not use MIT's confidential information for a non-MIT purpose
Federal Regulations
Federal regulations (35 U.S.C. 18 § 200-212, the "Bayh-Dole" Act) and contracts with research sponsors, external collaborators, and third-party providers of resources used in MIT facilities (e.g., data, equipment, or software) specifically require MIT to direct the disposition of intellectual property produced during MIT research projects. 
Federal funding contracts specifically require MIT to promptly report any inventions developed during a federal research project; many of our industrial and foundation sponsors expect similar regular reporting. This makes the obligation to disclose inventions particularly important.
Inventors should be aware that it is critical to execute any papers (such as the IPIA, an invention disclosure, or a patent assignment) relevant to confirming the assignment of an invention to MIT, particularly in the context of a patent filing. Without proper signatures on invention disclosure and assignment documents, it might become impossible for MIT to protect that invention.
Signing the IPIA
Faculty, staff (including visitors, research affiliates and fellows, and Media Lab), graduate students (including Media Lab), and undergraduates may sign the IPIA via Atlas (MIT certificates required). The executed IPIA will be automatically sent to the signatory and to the TLO with a note to the department, lab, or center's primary HR contact.
Other individuals are required to sign a hard copy of the IPIA . There are two versions of the form:
Visitor IPIA Form
For visitors, research affiliates, and anyone transferring from a current appointment to visiting or research affiliate appointment
You are required to present the signed IPIA to your home institution or employer for their signature (usually an authorized signatory, counsel, or Tech Transfer Office equivalent)
For employees, postdocs, and researchers
Send completed hard copies to tlo-ipia@mit.edu.